[ad_1]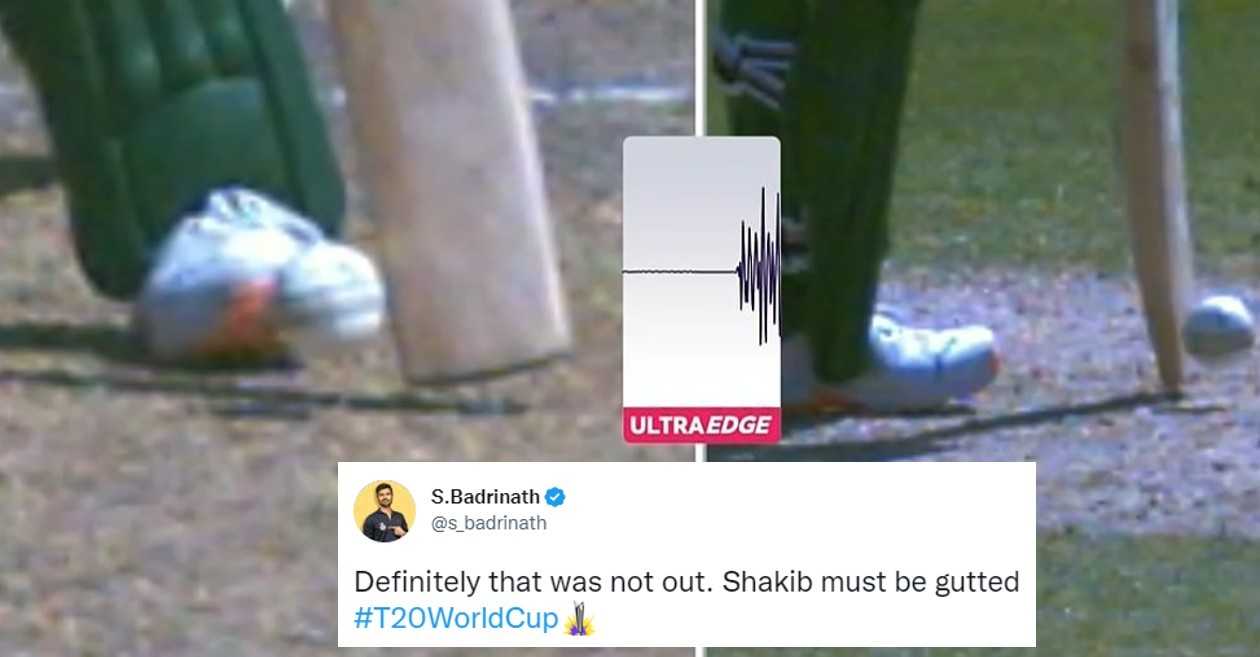 Bangladesh skipper Shakib Al Hasan became a victim of a controversial decision by the third umpire in the ongoing Pakistan versus Bangladesh game at the Adelaide Oval.
The incident set social media on fire, with experts and fans coming out in support of the Bangladesh skipper, stating Shakib was a sufferer in the LBW dismissal.
It all happened during the 11th over of Bangladesh innings bowled by all-rounder Shadab Khan. The Pakistan star had already dismissed Soumya Sarkar and trapped Shakib in front with a flighted delivery.
Shakib was adjudged LBW by the on-field umpire and instantly went upstairs. The replays showed a clear spike on the ball when it passed the bat before hitting the pads. However, the third umpire felt there was no conclusive evidence to overturn the decision and went with the on-field umpire. Shakib was visibly shocked by the decision and stood his ground, expressing his disappointment. But he had no option left and so walked back to the dugout on golden duck.
Notably, the loss of South Africa against the Netherlands confirmed India's semi-final birth and opened the doors for both Bangladesh and Pakistan to contest for a place in the semis.
Meanwhile, most viewers were left baffled by the seemingly substandard umpiring as they expressed shock and disbelief over Shakib's dismissal.
Here is how netizens reacted:
Shakib's bat didn't touch the ground at all. Just focus on bat's shadow. There was a spike. It couldn't have been anything else except the ball hitting the bat. Bangladesh at the receiving end of a poor umpiring decision. #PakvBan #T20WorldCup

— Aakash Chopra (@cricketaakash) November 6, 2022
Well Bangladesh have every right to feel aggrieved by that decision. One of the worst I've ever seen. #T20worldcup22

— TomRehn9 (@tomrehn9) November 6, 2022
Definitely that was not out. Shakib must be gutted #T20WorldCup

— S.Badrinath (@s_badrinath) November 6, 2022
How can that be given out?!
Not surprised that Shakib is upset.

— Vikram Chandra (@vikramchandra) November 6, 2022
That Shakib LBW decision was an absolute shocker. The bat was in the air when ultra edge showed a spike. Bangladesh fans can't believe it.

— Joy Bhattacharjya (@joybhattacharj) November 6, 2022
This picture says it all. That was Not out. Shakib Unlucky. https://t.co/oN6Xwlgkbm

— Abhinav Mukund (@mukundabhinav) November 6, 2022
What just happened? How is Shakib out? 🤯

— Danish Sait (@DanishSait) November 6, 2022
Very strange dismissal. Costs Bangladesh a review & Shakib Al Hasan's wicket. Wonder what the umpire saw. He ruled that there was an edge, the magnifier did show that there was gap between the bat and the ground. Or at least i saw it that way even if the ump didn't. #T20WorldCup

— S. Sudarshanan (@Sudarshanan7) November 6, 2022
Looked like a clear gap between bottom of the bat and the pitch at the time of RTS spike. Tough call for Bangladesh #T20WorldCup

— QUENTIN HULL (@QuentinHull) November 6, 2022
Umpires are clearly on Pakistan's side today. Athar Ali Khan on commentary is absolutely furious.

There was a clear inside-edge. Shakib and Bangladesh are in complete disbelief.#T20WorldCup #T20worldcup22

— Navneet Mundhra (@navneet_mundhra) November 6, 2022
I thought there was an edge from Shakib, he is unlucky.

— Johns. (@CricCrazyJohns) November 6, 2022
Bangladesh and Shakib Al Hasan robbed. That looked not out. ICC=PCB

— R A T N I S H (@LoyalSachinFan) November 6, 2022
Hello hello. What just happened there #PAKvsBAN

— Hemang Badani (@hemangkbadani) November 6, 2022
Big moment in the match. Looked like Shakib Al Hasan edged it.

The umpiring in this tournament hasn't been great#T20WorldCup #PAKvBAN pic.twitter.com/4zoJcVVPkm

— Saj Sadiq (@SajSadiqCricket) November 6, 2022
Umpire didn't give this catch out despite ball clearly hitting the bat. Shakib Al Hasan survived due to BCCI. pic.twitter.com/lwlttMg6O8

— Silly Point (@FarziCricketer) November 6, 2022
Shakib al Hasan was clearly not out. Cheating by Third Umpire pic.twitter.com/bVvYgPObPC

— Angry Foofa 🏹 (@AngryFoofa) November 6, 2022
Third umpire needs to get his eyes checked!#PAKvBAN#ShakibAlHasan pic.twitter.com/jEahNwWR8j

— John Joseph (@scoutjohn13) November 6, 2022
Whole World to "3rd Umpire" 😂😂 pic.twitter.com/MqrCTod7rN

— Krishan Rajput 🇮🇳 (@Krishthisside) November 6, 2022
Share with a Cricket fan!
Read Next Article
↓↓ Scroll down ↓↓
TAGS: Bangladesh, ICC T20 World Cup 2022, Pakistan, PAKvBAN, Shakib Al Hassan
CATEGORY: Shakib al Hasan, T20 World Cup, Twitter Reactions
For latest cricket news and updates, subscribe to our Daily Newsletter.


[ad_2]

Source link